Whatever you build, who joins you matters most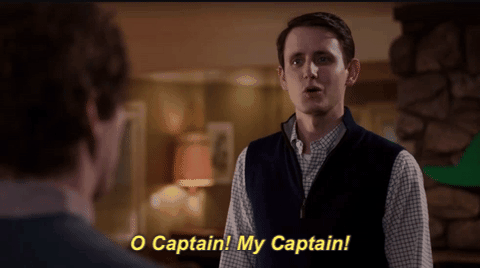 It's been a while since I published my last post, nine months actually. I've been busy and nervous and busy again raising a new fund to invest in Latin American tech. It's not that I haven't written — it's that I haven't had the courage to edit or publish the twenty or so pieces in my Medium drafts.
I am now on a train heading South to my late grandmother's house with my beautiful wife and kids — four amazing humans who enjoy testing Dad's patience which I have almost none left. While Cecile is reading, the four trouble-makers are hypnotized by their respective screens. A break, finally! Travelling with my team for life has gotten me think about my crew for ventures.
I've been a VC for 7 years now. Before, I used to run a failing retail family business. It wasn't fun, particularly the last couple of years. While my job was interesting then, my current profession is a lot better. It's not only what I'm building or helping build, but the people I'm meeting in the process that makes it so unique. It's not about the scale of transactional encounters but the long term relationships I've been able to invest in. That, has made all the difference.
By now, I'm sure you know that if you're trying to do something hard, you will need some people to keep you company. Failure is all but guaranteed otherwise. You need to federate a group for the ride: people who challenge you every day to become better, who keep you in check and cheer you when you're low, who teach you, who push you hard and accept your flaws.
As amazing humans have joined me around my mission, I've learned each and everyone of them plays a different yet crucial role in my journey. This is how I met them and the role they've had so far.
Someone to build with


I met Fernando in college in 1995. We shared two or three economics classes and worked on a project once. I had become a good student since my uneventful and mediocre run at the French lycéein Mexico. At college, Fernando taught me the value of collaborating with a much brighter and cultured classmate. We lost track of each other when an unsuccessful romantic pursuit took me to Paris two years into my economics degree. Years later, we met again at the Stanford Business School in 2002 and became friends. In 2008, we started teaching entrepreneurship. Since then, we have been building things to support talent: Fondeadora, Venture Institute and ALLVP.
It's impossible to state how important our partnership has been. Our team has been tested many times during the near-death experiences of our firm and investments gone sour. We know how to cheer each other up when things get tough. We've always had equal stakes and aligned incentives. We want to help unique founders change the world and succeed unequivocally our family lives. Besides sharing a vision, we complement each other. Fernando brings the financial acumen, the IQ and the EQ. I'm the salesman and the one who comes up with new stuff. I know Fernando's talent and had work will be rewarded soon. I'm so thankful for our partnership that seeing him succeed is part of my motivation. We're all in.
In great partnerships, consideration and generosity are more important than money. — Ray Dalio


Someone to mentor


Jimena and I first met at a summer BBQ in 2012 at Fernando's house. I remember that day clearly because a few hours before I had a vasectomy. Three hours after that very intimate medical procedure, I volunteered for a social event where I spent most of the afternoon with a bag of frozen peas to help ease the pain. I'll let you imagine the scene. That's how Jimena met this investor. Jimena is an idealistic, sociable and smart woman, the kind of person you want to partner with. We had just written a small check for Carrot, the first Mexican carsharing company and her energy captivated me so much that I immediately suggested Jimena to meet with Diego, founder of Carrot. They met and instantly hit it off.
Slowly but surely, I've grown into my role as a partner to entrepreneurs. But, when Jimena joined Carrot as a co-founder, she needed a mentor too. She chose me. That role has proven to be much harder. For five years, I met regularly with Jimena. We became close. She even asked me to provide formal performance feedback once a year. She wrote a preface for my book. Scaling Carrot company has been a rollercoaster ride, like so many startups. During this time, I have learned a lot from her and I hope to have done my job right. I can tell you mentoring is harder than teaching, harder than being a boss, harder than being a partner. It's also more satisfying.
Someone to guide you


From being a mentor, I see the task of a mentor as twofold. First, she must guide you to find the right questions. Second, she must help you raise the bar. The best mentors are both great listeners and accomplished in their field. I'm lucky to have had great advisors over time.
Madhav Rajan, Dean of Chicago Booth, introduced me to Steve in 2013 when he was Dean of Academic Affairs at the Stanford GSB. I had just sent a proposal for a new course to lecture MBA students about the opportunities of starting companies or investing in developing economies. Steve had participated in a highly influential report for the Word Economic Forum on emerging ecosystems and already taught two classes at the GSB. Steve and his wife Diane are active mentors and angel investors in the Valley. They often host foreign entrepreneurs riddled by Silicon Valley's close culture to help them navigate the ecosystem. They host long tables with investors and entrepreneurs with big dreams from all over the developing world. I've become a fixture at those tables.
Steve and I have been teaching together for five years now. As Stanford recruits new lecturers, it pairs them with senior lecturers or tenured faculty to help them learn faster. Steve has been guiding me to become a better teacher. I've learned to become a better leader because of his advice.
A mentor is someone who allows you to see the hope inside yourself. — Oprah Winfrey


Someone who gets you


I met Constanza at a dinner hosted by Murillo, our favorite angel investor. In September 2015, he gathered the founders and significant others of his portfolio companies for a pizza night in his house. Constanza joined with her longtime partner, Dario who had received an investment from Murillo for his SaaS company. Then, Constanza worked in the healthcare industry as an HR executive. She has a deep Argentinian accent. She's quick, witty and a bit quirky. The following week, Fernando and I took her for lunch to get to know her more. Minutes into our conversation, we offered her to partner with us to lead Venture Institute, the acceleration program we had founded a few years back. She took her time to decide but said yes.
Our job can be frustrating and unforgiving. We say no to founders 99% of the times, we make mistakes, and some investments fail. On top of that, I personally hold strong opinions and make them known. I'm used to being criticized but I've never gotten used to critics. I'm not complaining. The fun and satisfying outweighs the arduous. It's an adventure. For the past three years, Constanza has helped me navigate the hot waters. She never judges, always listens. Her experience managing talent has helped me become better at managing my team and ALLVP entrepreneurs.
Someone to admire


Back in February 2015, on a trip to San Francisco, I grabbed coffee with angel investor Mike at Galvanize in SOMA. At the end of our catch up, Mike, as the great connecter he is, offered to introduce me to a team from Chile who was working on an interesting project. A few minutes later, a surprisingly tall European guy appeared in shorts and t-shirt. No deck and no business card. We had an intriguing and friendly first exchange. Oskar and his team had started a coupon startup acquired by Groupon and scaled Groupon Latam into a very large regional player. All founders were engineers building the foundation of Latin American on demand grocery business from San Francisco.
Oskar is an extraordinary tech entrepreneur, one of, if not the best in the region. He's a hard charging visionary with extraordinary execution discipline. Behind his unapologetic tech leader aura, he is one of the most compassionate founders I know. His social convictions have informed every decision since the launch of Cornershop. And I admire the latter more than anything else. Since our fist investment in 2015, we've become close friends. When he moved to Mexico he found a house two blocks away from mine. We walk our dogs every once in a while. When things are hard or when there's a reason to celebrate, we go grab dinner at a nearby restaurant always at the same table. We drink lots of wine.
We founded ALLVP to back founders like Oskar.
As I make the final edits several weeks after starting this post, we still haven't closed our new fund. It's good to count your blessings when you're going through fundraise fatigue. I have many. Most have come from the people around me, my family, my friends and my team at work.
As you embark in new adventures with a new job or new project, choose your path first for the people you can find on your route. For it doesn't matter if you're going up or down, if you fail or succeed, what matters most is the people you meet.
And I wish all of you great adventures, good company, and lives as lucky as mine.— John McCain